A small selection of our Window & Door range:
Click on an image to open up in a lightbox.

Windows
Selecting new or replacement windows, can be overwhelming with all the styles, materials and features to choose from. In addition, as windows are expected to last up to 20 years, doing some homework before you make any decisions can save on headaches and disappointments later on.
New windows would be chosen when it is decided to change the size or shape of the current window opening, usually enlarging, and put a completely new window in its place. This generally requires the work of a contractor to complete the installation and surrounding carpentry. Again, new windows generally do not cost more, however the labour does add to the overall price.
Replacement windows are when an old or poor quality window is removed without disturbing the surrounding trim or frame, and is replaced with a new window that is designed to fit right into the existing opening. Replacement windows cost around the same as new windows, however there is less labour involved in the installation and therefore the overall cost is less. 
Basic and popular types of windows
Single or double hung sash windows are probably among the most common windows seen in most homes. They comprise of two separate sashes which open or close by sliding up or down. A single hung window opens from the bottom only by sliding up whereas a double hung window can be opened from either the top or the bottom.
Casement windows generally consist of one large pane of glass that is hinged vertically, and a small pane hinged horizontally, both on one side of the window or the other, and they open by swinging outwards. Usually a lever or other mechanism is used to open this style of window.
Awning windows, or rooflights, if not fixed are hinged horizontally at the top and are opened by tilting the window out from the bottom. As their name suggests the awning window creates the appearance of an awning. These windows are most popular in attic rooms, internal rooms and in bathrooms.
Slider windows...do just that. They slide open from side to side. These are an excellent choice when there is limited space outside to swing the window open. 
UPVC Fascias, Soffits, and Guttering 
Transform Your Home with Freefoam Products!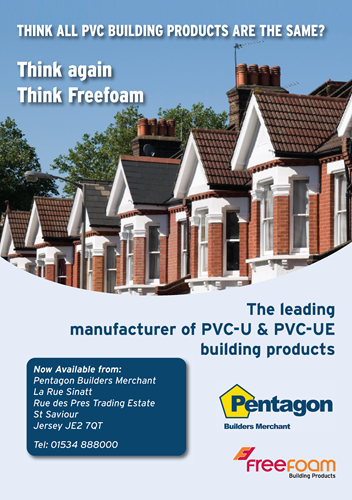 Looking to upgrade your home's exterior and give it a fresh, stylish look? Look no further! Introducing Freefoam, the leading provider of top-quality fascias, gutters, and soffits.
Why choose Freefoam?
Durability: Freefoam products are built to last. Crafted with precision and using high-quality materials, our fascias, gutters, and soffits can withstand the harshest weather conditions, ensuring your home stays protected year after year.
Aesthetics: Enhance your home's curb appeal with our wide range of colors and styles. Whether you prefer a classic look or a modern vibe, Freefoam has something to match your taste and complement any architectural design.
Visit our new showroom at Rue des Pres or call us on 288988

Doors
Doors can create just as much of an impression as an expensive piece of furniture. They are touched and seen close up every day, so don't just go for the cheapest replacements. Try to match the style to the rest of your home's features as much as possible.
Which door?
Panel doors are usually held in stock. They have several patterns and panel variations making them easier to match with the rest of your doors in the house. These doors have solid soft or hardwood frames and panels so you can cut and plane them down to fit a particular frame. You can also purchase them fully-glazed.
Moulded doors copy the style of a traditional panel door but cost less. The shaped surface can be formed from wood, plastic or manmade board, sometimes with a wood effect or coloured surface. They are supplied ready finished so no painting or varnishing is required.
Flush doors are the cheapest and usually made by sandwiching a honeycomb card layer between two sheets of hardboard or plywood. The edges are reinforced with thin timber battens, sometimes with extra material around the hinges and door lock. Sturdier versions have chipboard cores. Thin battens are used for the outer frame, and this means you can not cut more than around 5mm from each side or 10mm from the top or bottom.
Fire resistant doors used to gain access to the loft or garage are required by the Planning Department to be fire-resistant. These doors are thicker than normal, 44 to 54mm, and are rated with a fire resistance time between 30 minutes and one hour. You can choose between flush, moulded or even glazed patterns. This type of door has a dense compressed core material and the extra weight means they need a strong frame and special hinges as well as a closing mechanism.
Door Furniture
At Pentagon, we can supply a superb exclusive collection of quality door and window handles together with an extensive range of pull handles and accessories.
Our range is offered in a hardwearing satin stainless steel finish. In addition to this, there are a large number of dual finish levers. These have colour combinations of satin / polished stainless steel and satin / polished stainless steel and zirconium brass. This long lasting brass finish is very easy to maintain.
This fantastic range is on display at, and available from, our Architectural Centre in Rue des Pres Trading Estate. Contact us now or call us on (01534) 888000.
Let Us Help!
We can guide you through the jungle of product out there, so you the customer can relax in satisfaction.
Do you require further information on any product or service or need a quotation?
Call us - 01534 888000