Early in 1977, five local men, Chris Le Feuvre, Michael Hocquard, Bob Chinn, Edward Blanchet and Norman Renouf made a decision to set up their own business in Jersey. This was the beginning of Pentagon (Jersey) Wholesale Limited...which is now one of the Channel Island's foremost stockists and suppliers of building materials and home improvement products.
The business soon outgrew the initial premises in Clairvale Road. Therefore in October of that year, after just six months, Pentagon moved to Belvedere Hill, off Bagot Road, where the Company continued to go from strength to strength.
Today, after a further move, the Company occupies Pentagon House...a purpose built drive-through warehouse with their head office above and the Projects, Architectural, Paint Centre and Design Studio Departments occupying the surrounding buildings. Now employing over 70 staff, they deal with thousands of customers every year, not only within the trade but also among the general public.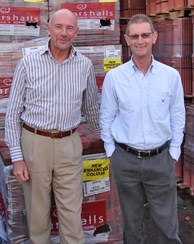 During late 1996, Pentagon extended its customer services still further by refurbishing their Design Studio, also at Rue des Pres Trading Estate. The studio later moved to Bagot Road, where it is today and displays a superb collection of kitchens, bathrooms, bedrooms, carpets and tiles.
"One of the reasons for the Company's continued success", says Mr Le Feuvre, "is the dedication and loyalty of the staff...many of whom have worked at Pentagon for a great number of years." He follows by saying, "I would like to express my ongoing thanks to all of them."
Without our customers however, there would be no business. "The customers, to me, are more important than anything else, we appreciate their loyalty," he said. "Many of them have dealt with us since the day we opened. We would like to thank them all and we look forward to being of service for many years to come."
Let Us Help!
We can guide you through the jungle of product out there, so you the customer can relax in satisfaction.
Do you require further information on any product or service or need a quotation?
Call us - 01534 888000