LAST UPDATED:  Wednesday, April 8th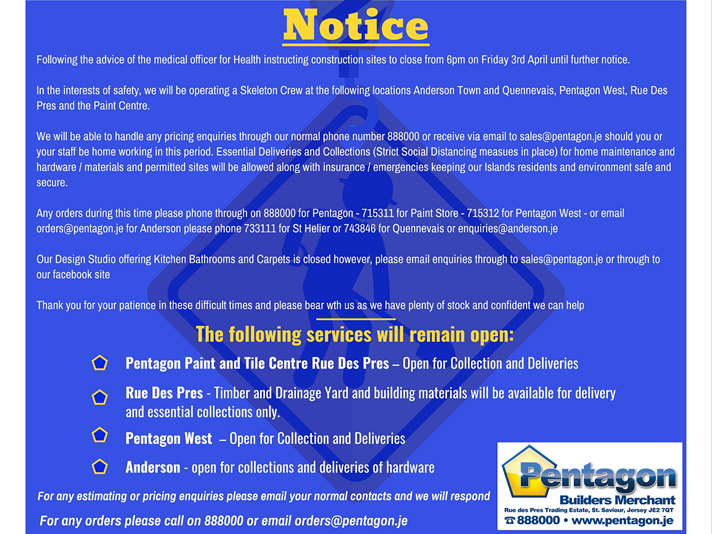 Pentagon Rue des Pres, Pentagon West, Anderson Waterloo & Anderson St, Brelade
stores are open and allowing collections and deliveries.
In respect of collections we are limiting customers to 2 people at a time into our stores and enforcing social distancing is maintained.
We are being notified of multiple Manufacturer Closures in the UK for between 2-5 weeks, however we continue to try and build our stocks and ensure continuity of supply.
If you cant get to us please email orders@pentagon.je or call us on 01534888000 where we will get materials out as quickly and safely as possible.
The Design Studio by Pentagon is now closed and will not reopen until at least 27th April. However w
e can continue to offer you extensive advice on our product offerings, including layouts and styles. If you do not know the size of your room, we can talk you through how to measure it, after which our designers will email you plans and visualisations, which we can then amend and refine as many times as necessary, to ensure you have the perfect Kitchen or Bathroom design to suit you. We will also provide you with a full estimate and breakdown of costs. We hope the current situation will soon improve and we can make your dream kitchen or bathroom to become a reality. You can also visit our manufacturers virtual showroom, on your web browser by visiting https://www.omegaplc.co.uk/english-rose
For Kitchen enquiries please email Gary.Power@Pentagon.je
For Bathrooms & Ceramic tile enquiries, please email Paul.Elson@pentagon.je
If you have carpet or flooring enquiries please email: Helen.Howe@Pentagon.je and we will contact you as soon as we are once again able to offer this service.
Thank you for your continued support.
Branch Status:
Pentagon Rue des Pres, Pentagon West, Anderson Waterloo Street & Anderson St, Brelade are open as usual.
 The Design Studio is now closed, until at least the 27th of April
We are limiting the number of customers within our stores to order to strictly adhere to social distancing guidelines.
If you visit our branches, you must please adhere to the social distancing requirements.
If you are self isolating and need a delivery of goods please call us on 888000 or email orders@pentagon.je

Due to the high volume of orders. Delivery times will vary - please be patient!
Please contact us on 01534 88800 or email orders@pentagon.je.